Inbound Marketing Agency
A recent shift in the purchasing paradigm has given all the power to the consumer. This shift was created by the convergence of mobile technology and web technology. These days, almost everyone conducts extensive research projects daily before making decisions  These research projects are executed using mobile devices, laptops, and PCs accessing cloud based tools like search engines and social media. In other words, people turn to Google, Yahoo, and Bing looking for answers or solutions or they look to Facebook, Twitter, and Linkedin looking for recommendations, advice, or referrals.

What is Inbound Marketing?
Inbound Marketing, simply stated, is creating marketing that people love by being honest, helpful, and informative in a multi-channel strategy that gives potential prospects tons of ways to find you and reasons to do business with you. Inbound marketing begins with creating informative, unique, and relevant content and publishing it in multiple channels to affect direct traffic and viral sharing of your content.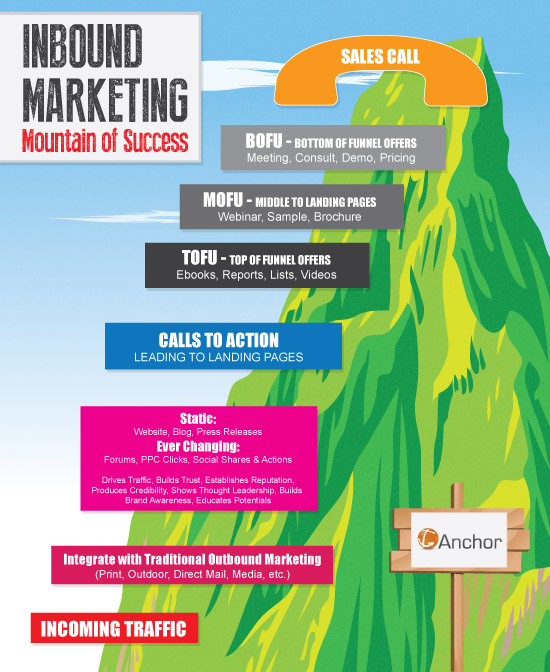 Once your content is driving quality traffic, next we want to measure and convert that traffic using marketing automation tools and best practices on your web pages and landing pages including advanced forms, reporting, re-marketing, and premium content downloads.

Inbound Marketing is like fishing with chum.
Inbound marketing is essentially like fishing with great bait.  Bait that the fish love so much that you catch them again and again. Unique, valuable and engaging content is that bait. Content marketing will drive quality web traffic like chum bring fish to the boat, but premium content is stuff with hooks that they can't get enough of, if the presentation is right.
Great chum can be:
Blogging

Article Writing
Web Page Content
Social Media Content
Online Press Releases
Info-graphics

Premium Content is the hook.
The goal of inbound marketing would be to first GET FOUND by the right people. Then you answer their questions, solve their problems, and offer up some valuable information that helps them in some way. This creates an emotional bond that strengthens your brand in their heart and will result in repeat customers due to brand loyalty. Then you offer even more relevant and valuable content for FREE via download as Premium Content.
Premium Content is typically PDFs such as:
Case Studies

White Papers
Executive Briefs
eBooks
Lists
Guides
In return for the premium content, they will exchange much more than just contact information. People are much more willing to answer qualifying questions when they are getting something of value in return. So in this case, we use landing pages with advanced forms linked to marketing automation software. Once the form is completed, the prospect gets the premium content, your CRM is notified of the Lead, and the nurturing process begins followed by deal closure and re-marketing.

Know your fish and nurture them
Lead nurturing may take many forms.  The most common is email marketing via advanced automation platforms like Hubspot.  The personal data acquired by the premium content allows us to initiate automated workflows that send personalized emails to your prospects based on their answers, interests and behavior.  Thus creating more meaningful emails with a higher open rate and more conversions.
Today, people use search engine technology NOT to search a word or group of abstract words. They search questions or problems looking for answers and solutions. Recent changes to search algorithms have created an atmosphere where businesses MUST become publishers of valuable and informative content.